A kitchen design remodel is one of the best investments you can make in your home, and many homeowners spend a lot of money redesigning their kitchen with the hopes of adding value to their property. The average spend for a full kitchen remodel in California is usually between 40-75 thousand dollars, depending on the size of the kitchen, while luxury kitchens can hit over $100K. The larger the kitchen, the bigger the bill. Even with all budgets considered, 89% of homeowners are hiring the pros and spending more on their remodels, according to a recent Houzz Study.
A smart remodel and interior design can help you improve the flow and functionality of your kitchen as both a workspace where you create your meals and as a gathering place for your family and friends. Wondering which kitchen trends you should focus on with your remodel to make the biggest difference in terms of both style and function, as well as adding value to your home when it comes time to sell? Here are the top ten 2024 new kitchen trends and ideas homeowners are including in their budget for maximum impact.
 1. Upgraded Kitchen Countertops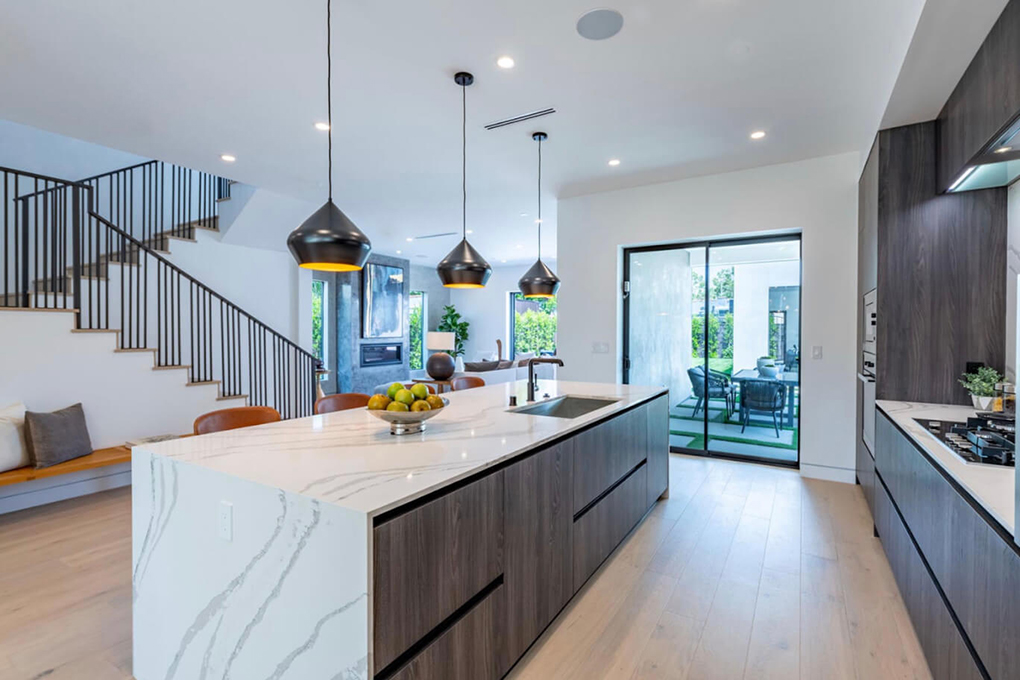 If the kitchen is a temple, the countertop is the altar. A countertop upgrade has been ranked as the most popular feature in a kitchen remodel. A countertop upgrade has been ranked as the most popular feature in a kitchen remodel. Homeowners have opted to upgrade countertops 91% of the time according to a recent Kitchen Trends Study. In the study, 35% of remodelers admittedly spent more than anticipated on the material used. Engineered quartz is currently the number one choice for upgraded counters for a smooth, sleek look. The second-most popular choice for upgraded counters is granite followed by butcher block or wood slab to create that modern farmhouse effect. 2024 is clearly a year of no expense spared in kitchen trends and countertops are certainly not excluded from this uninhibited attitude, so if you are thinking of a remodel you'd do well to invest in an upgraded countertop as a part of your new kitchen design.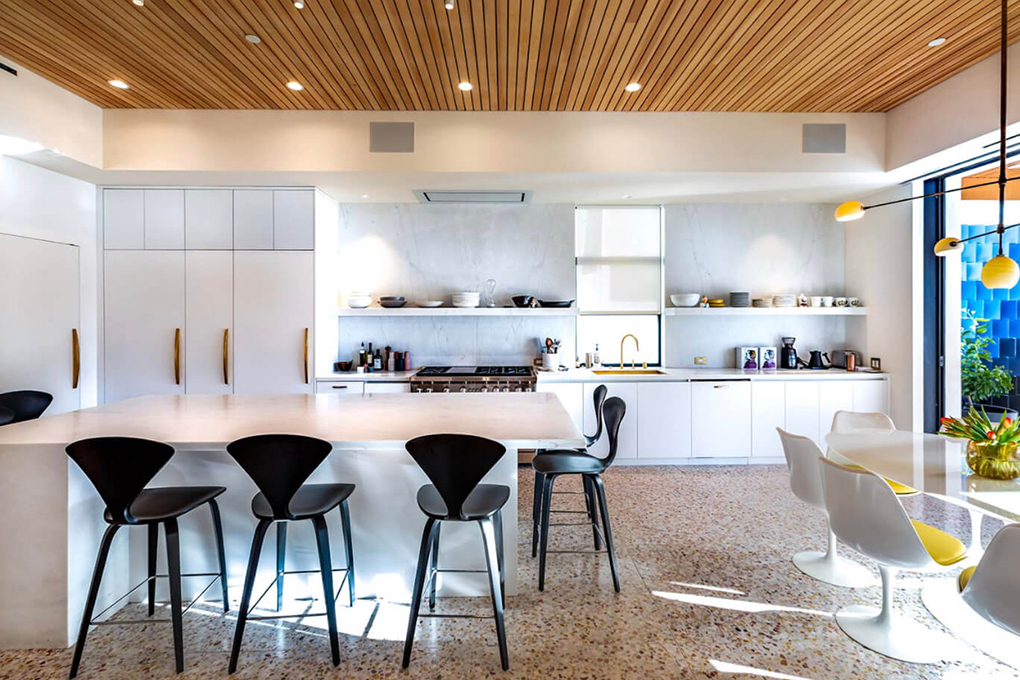 2. Open Floor Layout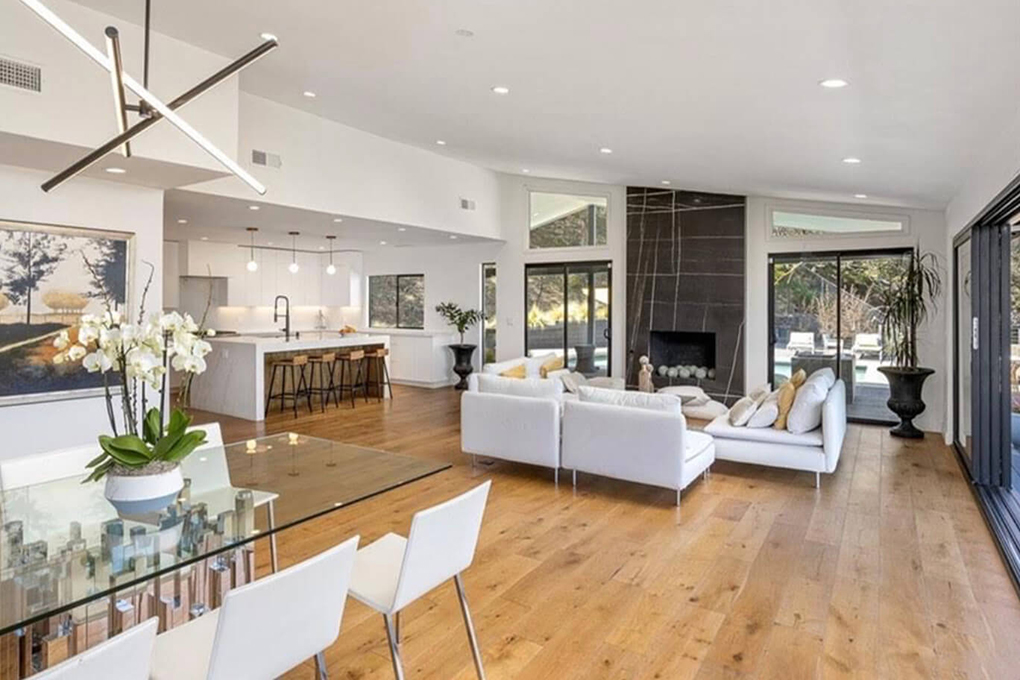 Open floor plans have been the dominant architectural trend in new residential construction since about 1990. Currently, open-concept kitchens that lead to the outdoors are especially popular in terms of new kitchen ideas and show no sign of slowing down in terms of 2024 kitchen trends.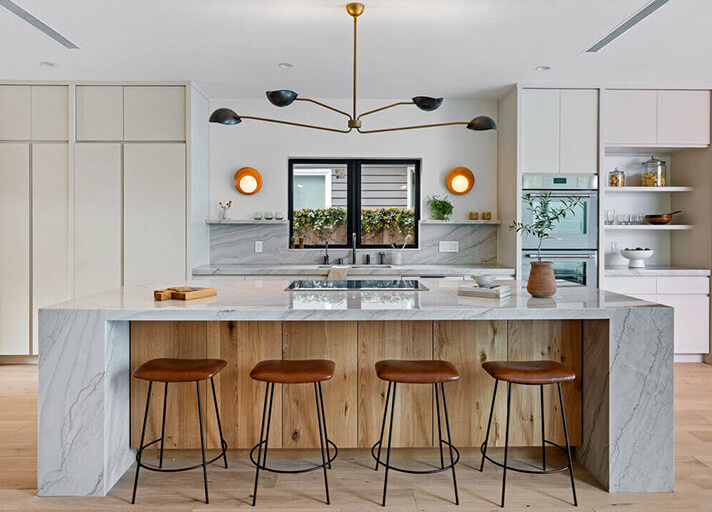 An open floor layout creates an effortless flow from one room to the next. They are favored for kitchen design because they allow improved sociability and communication, multi-functional usage, and shared, improved lighting. Whether you like to entertain often or simply want an airer feeling in your home for easy family meals, an open floor layout is a good choice for many kitchen remodels.
 

3. Utility Islands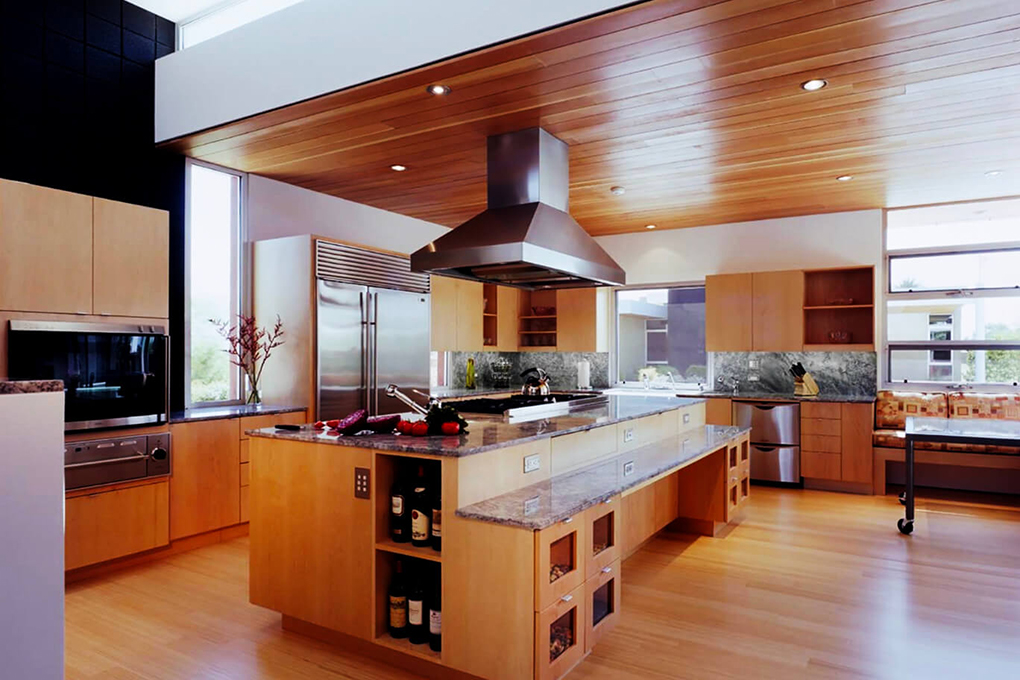 The kitchen island is not a new kitchen trend but for 2024, it's proving to be more of a utility player. With windows on the rise and cabinet space decreasing, architects have figured out modern-day solutions to this modern-day problem. This addition is so multi-functional for the reason it is 100% customizable and perfectly made to meet the individual needs of your kitchen.
If you're looking for new kitchen ideas, there are lots of ways to customize the utility island according to how you and your family use your space. A few features that an island might entail include:
 Extra outlets
 Towel rack
 Trash bin pull out
 Space for extra seating
 Space for a dishwasher
 Toe kick drawer for pet food
 Sliding compact spice rack
 Easily accessible cookware shelving
 Storage for a microwave
 Beverage & wine fridge
 The list is endless. If you can think of it, it most likely can be done as a part of your remodeled kitchen.
 4. Color and Bold Accents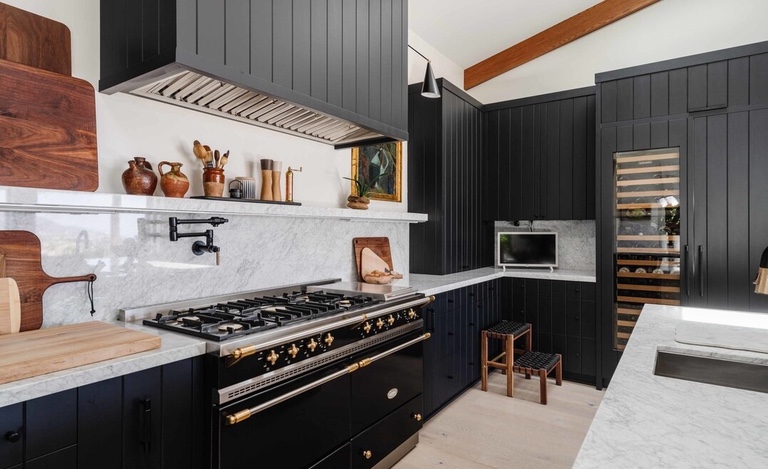 The latest design trends report from the National Kitchen and Bath Association(NKBA) indicates a strong trend toward the use of bold colors, materials, and accents.  While stainless steel is still the number one choice, there is a  growing preference for black appliances which give a kitchen a modern and sophisticated look. In 2024 the new kitchen trends and ideas are moving away from the white and greyscale theme to warm, bold colors mixed with light natural woods. In the latest NKBA survey, the most favored colors for kitchen cabinets and accessories are green (45%) and blue (37%).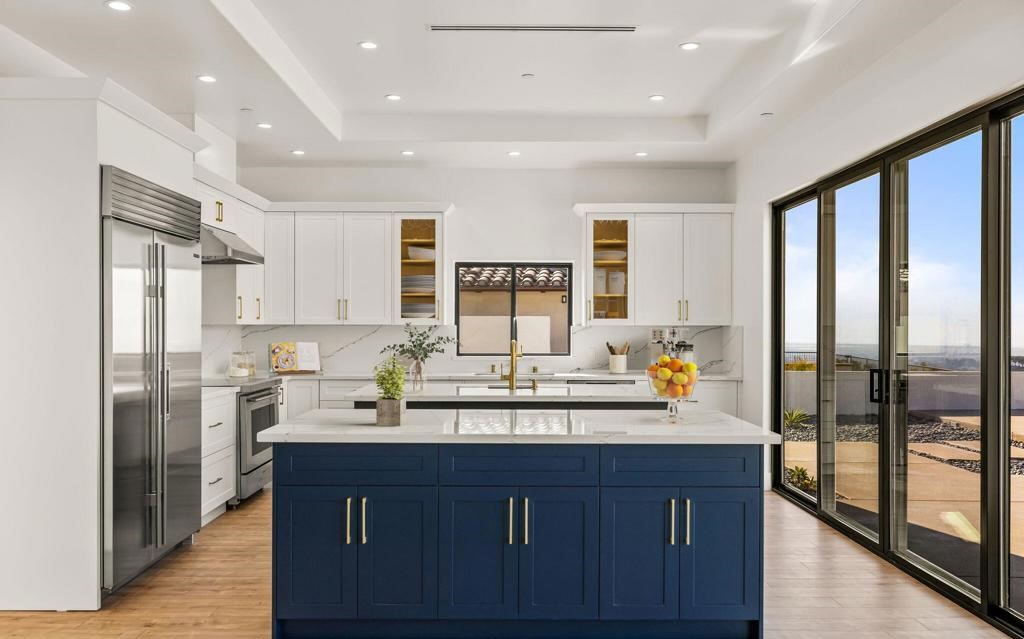 5. Tiled Backsplashes
There's something about a great tile that breathes life into any room and is a trend that can be customized for any space or style. Whether it's a pop of color, a detailed texture, or discerningly placed to compliment structural integrity, we're seeing updated backsplashes everywhere in newly remodeled kitchens as one of the biggest 2024 kitchen trends. Ceramic and porcelain tiles continue to be the most commonly used material. However, marble backsplashes are now showing a surge in popularity thanks to their sophisticated appearance and ability to withstand wear and tear.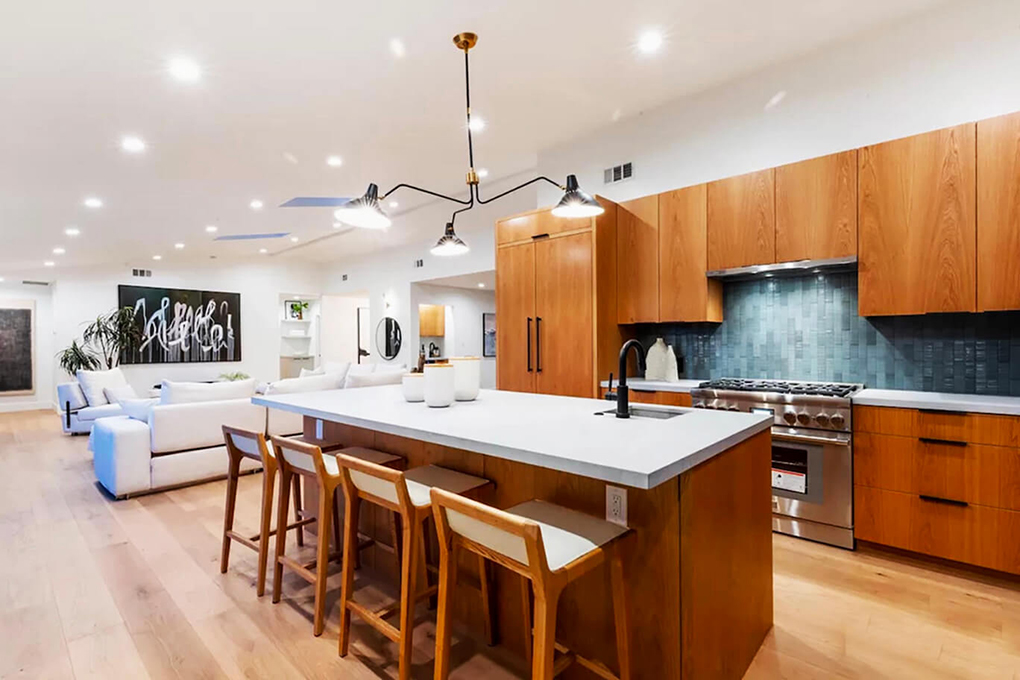 Additionally, fun tiles can add perceived value and personalization to achieve the right mood you're going for. Besides their pretty looks, tile backsplashes actually can serve an important function too. A well-used kitchen can get really messy. Let's face it – things spill, splash, drip, and even erupt on rare occasion, but these beautiful little pieces have your back, serving as a buffer to protect your walls from the heat, the stick, and the stains. Unlike painted walls, tiled backsplash is easy to clean and maintain and will offer a polished look to any kitchen for many years to come—a 2024 kitchen trend that will stand the test of time.
6. Minimalist Kitchen Design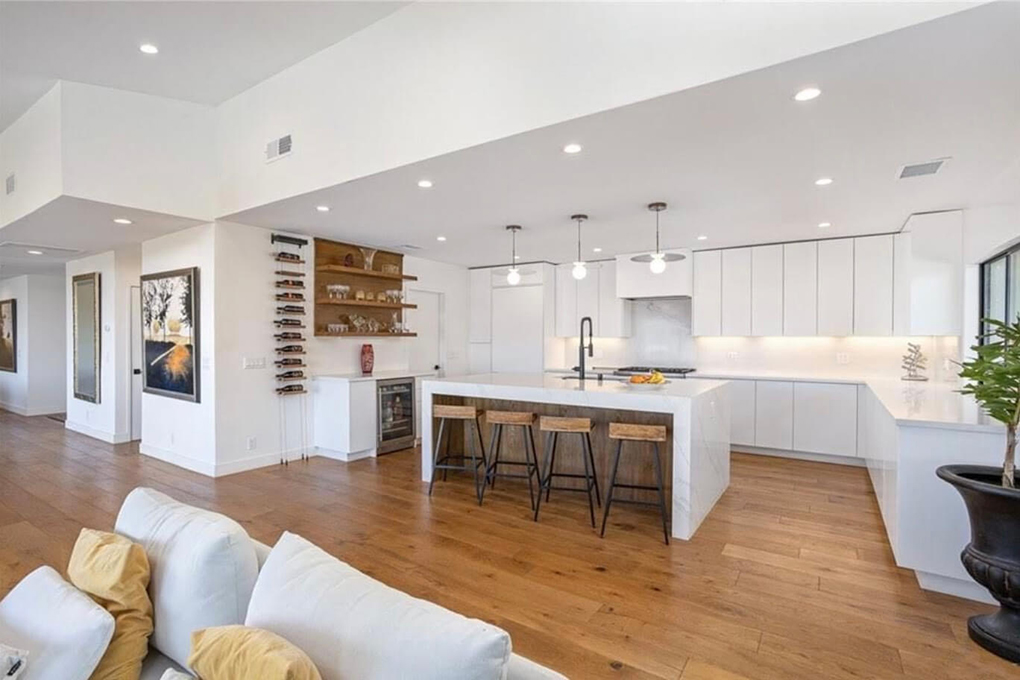 Minimalism is back as one of the biggest 2024 kitchen trends. Minimalist design is focused on improving your lifestyle through simplification and involves using the bare essentials to create a simple and uncluttered space. Due to its sheer functionality and tendency to become cluttered, the kitchen is a room that can really benefit from this kind of simplistic design. Smart storage solutions are vital to a house plan to keep surfaces organized and clutter-free. You will likely find that your kitchen is not just more visually appealing – it is also easier to use, so we consider this chic approach a win-win.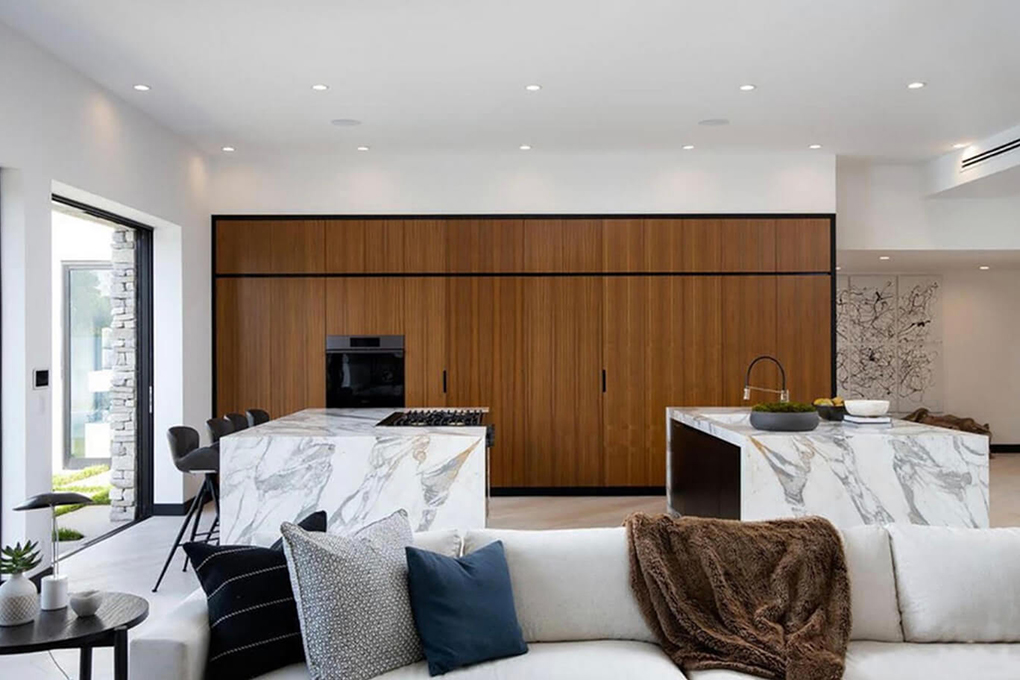 ​​
7. Window Banks
The ability to be connected to the outside has been on the minds of many homeowners when they consider new kitchen ideas and trends for 2024. More people are working remotely and are finding creative ways to integrate "the in" with "the out." Long banks of multiple windows and sliding glass doors are a popular solution that brings the outdoors a little closer, adds more light, and creates a sense of openness. 
Commonly placed amid two to three surrounding walls, a window bank allows the kitchen to be illuminated by the warm sunlight. It's proven that this sort of exposure in the early parts of the day is mood-boosting, energy-enhancing, and puts your circadian rhythm in harmony. Even without knowing the science behind it, homeowners are instinctively making that call to let the sunshine in.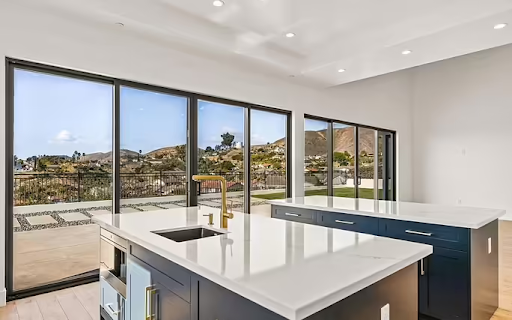 8. Statement Lighting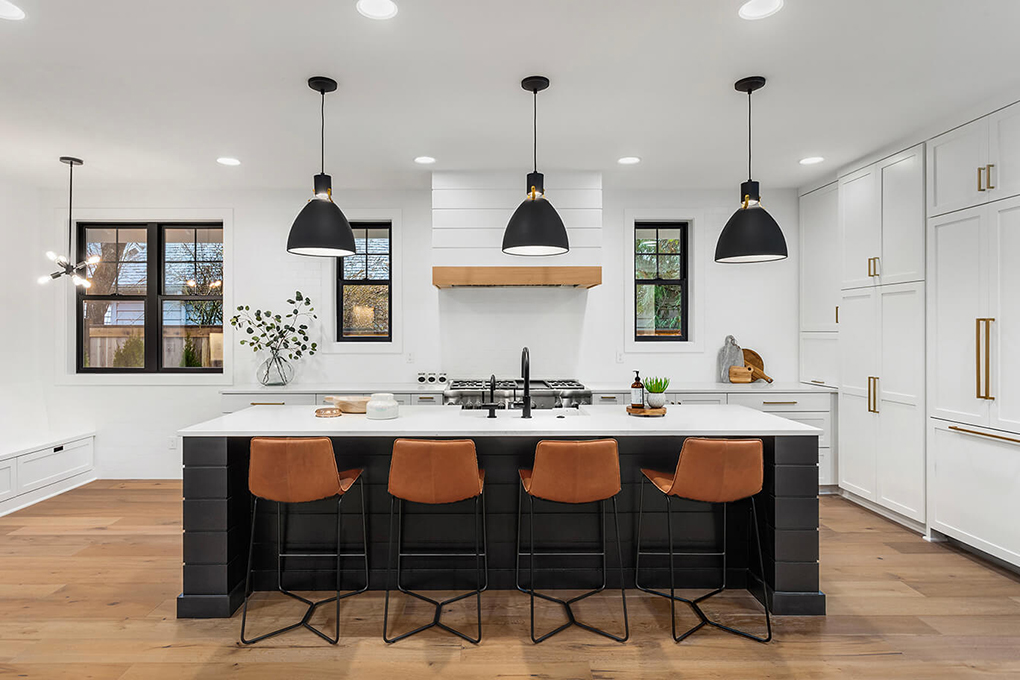 Sure, the infamous recessed overhead lighting is functional and necessary – but adding a chandelier with some personality can immediately elevate a house design plan. Here are some lighting styles you should expect to see everywhere in 2024 kitchen trends.
Pendant Lighting
Pendant lighting over an island or at the center of the dinner table is like yin and yang – they belong together. A pendant makes a statement while providing direct illumination for evening meals or adding some light on dim days. 
Subtle & Refined
On one end of the spectrum there is bold and bright; on the other resides something a bit more delicate. We're seeing that "quiet" lighting can diffuse and soften the transition between two areas, commonly seen in spaces like the kitchen and dining room and add an elegant touch to your kitchen design.
Organic Materials
Materials like raw wood and shapes inspired by the natural world are among the top 2024 kitchen trends when it comes to lighting. Because of the sudden interest in integrating nature-esque qualities into the home, organic materials and shapes take more precedence in its fixtures. See the picture below for some brilliant pinecone-like lighting options.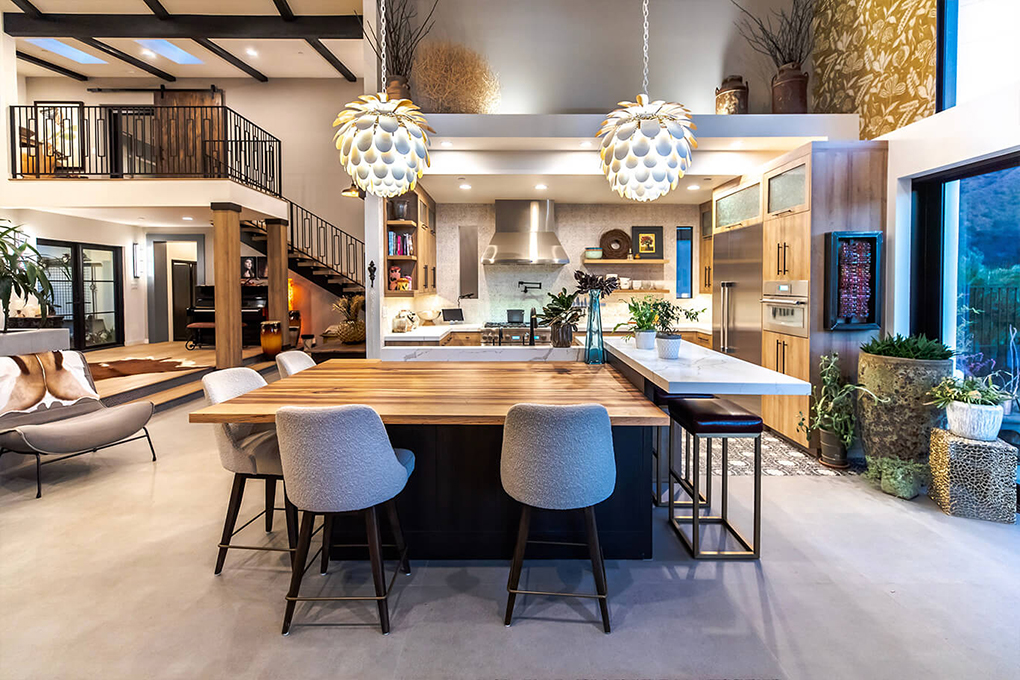 9. Working pantry/Scullery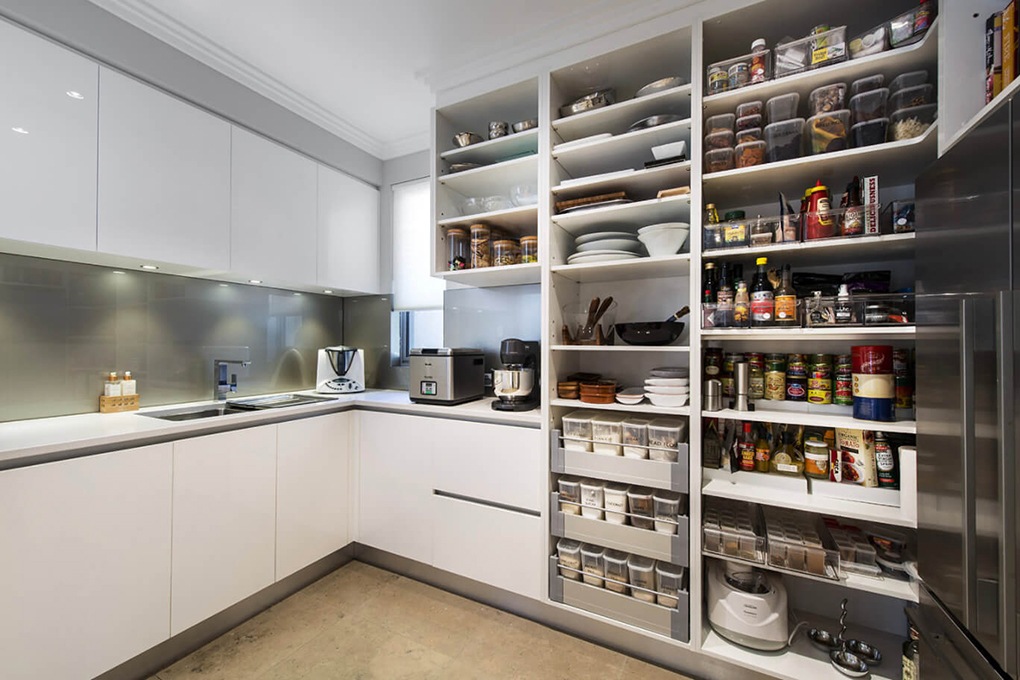 A pantry is one of the popular new kitchen ideas that draws its inspiration from the past but is adapted for modern living. A working pantry or scullery is a sneaky substitute for an overcrowded kitchen and is coming back in style as one of 2024's top kitchen trends. A pantry means no more struggling to decide which appliance gets to have its moment in the spotlight, no more messy dishes and cookware backing up the flow of hungry visitors, or forgetting about that crockpot your sister-in-law got you four birthdays ago. 
Having a cohesive space outside of the kitchen for storage will ideally simplify the activities going inside of it and help you stay organized so you can focus on your friends, family, and making memorable meals and memories together. Sometimes a working pantry can be easily incorporated into your existing kitchen floorplan, while other times it can be helpful to add an addition to help create the right floorplan to accommodate a pantry that fits your needs.
10. Arched Entryways
An arched doorway creates a softer and more unique entry than its more common rectangular counterpart and we're seeing lots of homes use this in their renovations for all rooms. An arched entryway differentiates the space and creates a unique statement for a house plan. It also works well for a variety of house styles, from historic to modern, which is why it seems to be among the more popular 2024 kitchen trends. In terms of kitchen ideas, an arched doorway allows for a more organic flow between rooms and makes for an elegant, vintage-inspired finishing touch.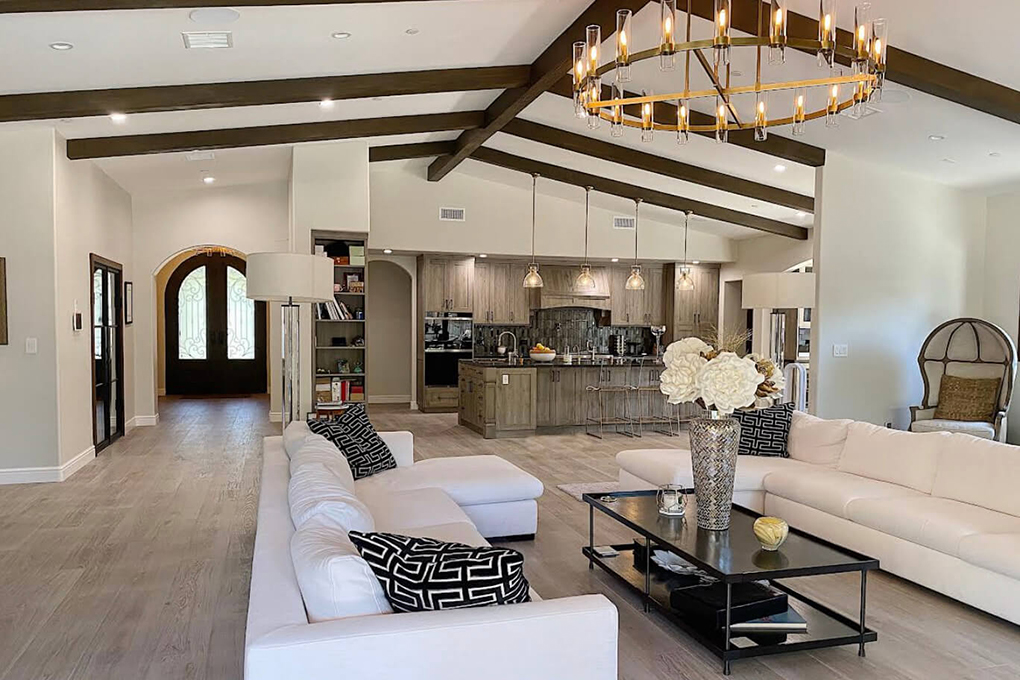 With these top ten kitchen trends, homeowners are spending increasingly more on their kitchens – as an investment in the home is an investment in life. The right kitchen can become the heart of your home, a place to make delicious meals, gather your friends and family, toast special moments, or simply enjoy the sunlight and a good cup of coffee in the morning. If you're thinking of remodeling your kitchen design, we can help.
Transform Your Home with EZ Plans
Let EZ Plans' California residential architects help you get started on your kitchen remodel and discuss how we can incorporate these 2024 kitchen trends into your home. Our licensed architects are up to date on all the latest trends and are skilled in both design and processing the plans to get you on the fast track to obtaining a building permit. We combine architectural design talent with affordability and transparency, so you can make your dream kitchen a reality. 
For more information, Call us today or visit our pricing page for an instant quote.
You can also connect with us on Facebook, Instagram and Linkedin to see more design inspiration as well as projects we've worked on for other happy customers.